Controlled Delivery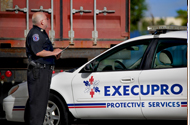 Imagine the peace of mind that your customers will experience knowing that you have taken protective measures to secure their cargo in transit ensuring it reaches its destination without interruptions or losses.

Our Controlled Delivery Division effectively follows the delivery truck utilizing marked or unmarked vehicles with or without the driver's knowledge. If any, unauthorized activity or stops occur along the way, you are immediately informed and immediate corrective measures are taken to ensure the integrity of the load.

In addition, the entire process is electronically documented in a detailed report with photographs which is provided to you to defend against claims that may arise of alleged theft while the load was in transit.

Consequently, our Controlled Delivery Division effectively reduces the number of losses and claims placed against your organization and as a result increasing your profitability and customer retention.