Cargo Theft Statistics
The International Cargo Security Council suggests that more than $25 billion worth of goods in transit are stolen annually in the U.S.


The FBI estimates that cargo theft cost the U.S. $15-$30 billion per year.


Texas-based LoJack Supply Chain Information & Analysis Center reported that out of the 353 security related incidents reported by its 1,500 members, cargo theft was the most dominant
activity with 299 cases.
CARGO PROTECTIVE SERVICES
Cargo theft is a multi-billion dollar problem for shippers and transportation carriers alike. As the dominant provider specializing in Cargo Security & Loss Prevention solutions for the Supply Chain and Cargo service industry, EXECUPRO'S extensive experience, resources and comprehensive services anticipate and meet the evolving needs of the cargo and supply chain industry.

Services List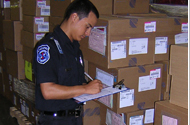 We offer an array of specialized solutions to
support the varying needs of today's cargo
security conscious organizations.
Uniformed Security Officers

Cargo Escort Services
Loss Prevention Investigators
Undercover Operatives
Emergency / Disaster Response
Control Room Monitoring